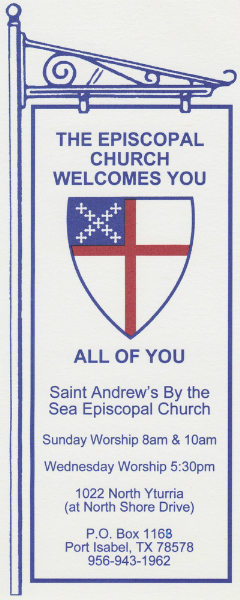 Welcome
For those looking for more meaning and deepened spirituality, The Episcopal Church offers honest and unconditional acceptance, which removes barriers to Jesus Christ and permits belonging to an authentic church community.
We invite all baptized Christians who desire a deeper relationship with Jesus Christ to receive Communion during our Eucharist services.
Gluten Free wafers are available upon request. Please notify an usher prior to the start of service if you have not requested them in the past.
A nursery is normally available 8:30am to 11:30am. This allows for participation in Adult Sunday School (when in session), attendance at the 10am Church Service, and then enjoying coffee and conversation afterwards.
Please call the church office using the link below to confirm the Nursery is open when you plan to attend.
If this is your first time visiting with us, or it has been a while, please be sure to sign our guest register in the Narthex before you leave. If you are a frequent visitor, please request a name tag.
Please note: If you would like to read our weekly e-news, provide your e-mail address when signing the guest register, and check that you wish to receive it. We will not send it to you without your permission. You may also send a request via this website at the link below.
For information regarding Baptism, Confirmation, Marriage, Reconciliation of a Penitent, Ministration to the Sick, Ministration at Time of Death, Burial or any other special services please contact the church office at 956-943-1962.
Our Vision
We are a parish:
Of Faith
Of Compassion
Called by Christ
Serving in the Community
Our Mission
The mission of St. Andrew's by the Sea Episcopal Church is to serve God, to spread the Good News of Jesus Christ, to serve our community and to reach out in love and fellowship to each other, our children, and our guests.