Needlecraft Fellowship
My day is not complete
until Needle, Thread and Fabric Meet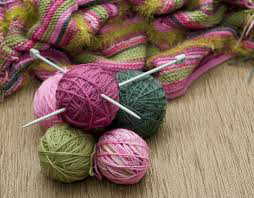 Our Parish Needlecraft Fellowship brings together parishioners and guests with a common interest to discuss, display, and work on their individual projects. Whether you're making a prayer shawl for the sick, booties for a newborn, a quilt for newlyweds, or your own design/project, please join us.
Everyone is welcome.
If you are not currently working on a project, there is information available on
knitting and crocheting projects for charity and also ideas for quilting.
Questions, or if you would like to have more information, contact the Church Office (Links below)
Mail: Click here to email our office.
Phone: 956-943-1962
Prayer Shawls
What is a prayer shawl?
Throughout the ages shawls have symbolized shelter, peace, and spiritual sustenance.  The National Prayer Shawl Ministry, http://www.shawlministry.com/, started in 1998, is an ecumenical movement with people praying as they create hand-knitted and crocheted shawls for those in need. The creation and presentation of a prayer shawl, like all acts of generosity, enriches the giver as well as the recipient.