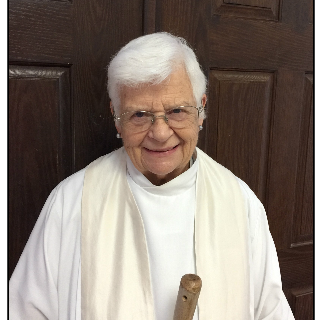 The Rev. Sandra Dower remains with us through the month of June.
She will travel back to her home in New York State for July and August, returning here in September.
The Rev. Sandra Dower was ordained to the priesthood in 2004 in the Diocese of Western New York. She completed seminary in Rochester, NY, earning a Master of Divinity. Subsequent to ordination, she served three small churches while each was seeking a full-time priest. The most recent was All Saints Episcopal Church, in San Benito, Texas. From August 2015 through Spring 2016, she served as Assistant Priest at Church of the Advent in Brownsville.
Prior to entering seminary, she earned a Master of Education with a concentration in Early Childhood Development and worked for 38 years in Head Start before retiring at age 66. She grew up in the Northeast and has been married for 60 years to Dave Dower. Since Sandra entered the priesthood, they have traveled across North and Central America, following her priestly calling.
They winter in San Benito, Texas, returning home to Jamestown, New York, for the summer months. They have three children, five grandchildren, and one great granddaughter.