Children & Youth
Safety
The safety of our children and youth are important to us; therefore, all persons working with our children or youth are required to complete Safeguarding God's Children and pass a background check.
Information regarding workshops at other locations is available at http://www.dwtx.org/department-ministries/communications/current-news/ .
Nursery
A nursery is normally available during the 10am service for children age three and under. To verify, or request nursery service on any particular day, or for any particular event, please contact the church office at one of the links below.
Mail: standrewsepiscopalpi@gmail.com
Phone: 956-943-1962
Children's Church (10am Service)
Children enter the Sanctuary with their parents and stay through the reading of the Collect. They will then leave to attend a "child friendly", Gospel based, Sunday School Program (Deep Blue – see below). At the time in the service that we pass the peace, the children will return to hear and participate in the Holy Eucharist.
Our Fall Sunday School program, for children ages three to twelve years old, started September 4th, 2016. We introduced the Deep Blue Series. Read more about the program here: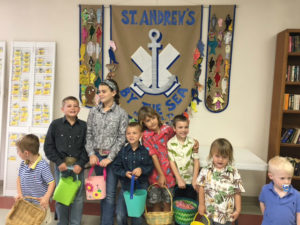 Episcopal Youth (EYC)
No ongoing youth program at this time.