Children & Youth
Safety
The safety of our children and youth are important to us; therefore, all persons working with our children or youth are required to complete Safeguarding God's Children and pass a background check.
Information regarding workshops at other locations is available at http://www.dwtx.org/department-ministries/communications/current-news/ .
Nursery
A nursery is normally available during the 10am service for children age three and under. To verify, or request nursery service on any particular day, or for any particular event, please contact the church office at one of the links below.
Mail: standrewsepiscopalpi@gmail.com
Phone: 956-943-1962
Children's Church (10am Service)
Children's Sunday School starts again on January 12, 2020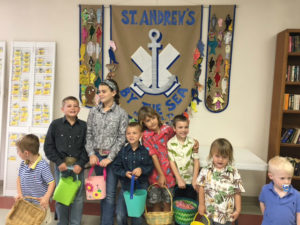 Episcopal Youth (EYC)
No ongoing youth program at this time.